This week's Video Game Crafts 'N Gear sees a mix of the stunning, the adorable and the badass. Dig in to the amazing Skyward Sword cake, marvel at some sweet Pokemon fan art and gear up on some incredible gaming weaponry!
Skyward Sword Diorama Cake
We're only a few months into 2013 but already Will and Liliana could be nominated for the best parents of the year. After their amazing Super Mario Galaxy cake in 2008, the duo are back with another incredible animated cake for their daughter based on the latest Zelda masterpiece, Skyward Sword.
Complete with a flying Link, a tornado-bringing Ghirahim and Beedle's flying shop circling around, Skyloft is represented in its entirety above a layer of clouds. Below that, you'll find the Sealed Grounds in Faron Woods, with Zelda and Impa stood at the Temple entrance and an eager Groose building the railway track.
Cosplaying Pokemon Art
In case the title misled you, you won't be able to find any people cosplaying here. No cute Pikachu gals or convincing Ask Ketchum lookalikes here, as it's the elemental critters themselves that are doing the dressing up!
Artist Birdy Chu Art drew these sickeningly adorable pictures of young Pokemon cosplaying as their final evolution forms. Scroll down for Charmander with wings, Pikachu with punk-style hair and threads, and a group Eevees being whoever they want to be!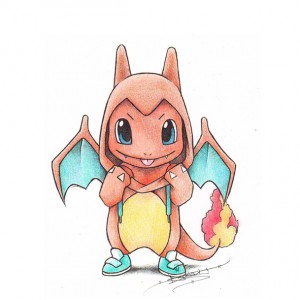 [Source: Tumblr via Destructoid]
Halo/Mass Effect Gun Replicas
If you've spent enough time on the internet, you would have seen tons of sick gaming rooms by now. But you haven't quite seen a gamer so ready for a real-life alien invasion or zombie apocalypse.
Prop-builder Andrew Cook decorated his pad with a complete arsenal of fantastic-looking guns. Mostly based on the Halo and Mass Effect franchises, the detail is so convincing that it looks like Bungie and EA provided the merchandise themselves.
[Source: Twitter via Geekologie]
To check out last week's featured Crafts 'N Gear, here's the link for #16: Avengers Xbox 360s, Mega Man USB, Majora's Mask Replica. You can find all our back episodes here.
If you've seen or made anything cool that you'd like to see featured, leave us a comment or send me a tweet! You just might see your name credited next week.