[Welcome again to Video Game Crafts 'N Gear! This is a weekly feature wherein I shine the spotlight on three of the best custom-made, video game-inspired projects I've come across this week. Whatever the game and whether it's art, crafts, toys, cosplay, animations or anything creative, if it's awesome enough I'll share with you wonderful readers!]
Super Mario Bedroom
 38-year old father Dustin Carpenter is now a front-runner for Dad of the year, after creating this incredible Super Mario Bros.-themed bedroom for his 13-year old daughter. While Mario, Bowser and Goomba are vinyl decals, Carpenter painted everything else in the room; Boo, the Piranha Plant, the clouds, the pipe, the bricks… all his handiwork!
Unsurprisingly, the lucky girl thinks its "amazing". There's even block shelves, plush toys on the bed, and a real flagpole… She'll grow out of this and will be willing to trade rooms with me eventually, right?
More Gaming Children Books
Earlier this year we featured some amazing concept art for gaming-themed children's books by Joey Spiotto, in a similar style to Little Golden Books. Spiotto has been busy since then, and I'm happy to say that he's continued with this project with relentless talent.
In his three latest creations, he has based books on Mass Effect, Red Dead Redemption and Half-Life, titled "The Good Little Shepard", "Little Red Dead" and, my personal favourite, "Rise & Shine Mister Freeman". Again, the man has amazingly turned mature video games into the most adorable things-I-wish-were-real ever. Let's also not forget, that art is remarkable!
Tron N64
Here's a guilty confession: I've never watched a Tron movie before in my life. However, this just just shows that, even despite this, I remain amazed once again at Zoki64's efforts. We have featured his work many times, and his latest custom N64 mod is just as worthy of your attention as his last.
Looking at the N64 console and controller under normal lighting conditions is already beautiful enough to warrant a place here–but flick off the lights and that's when this console (literally) shines. As if the pretty pictures weren't enough, he has even created a video demonstrating his work close-up.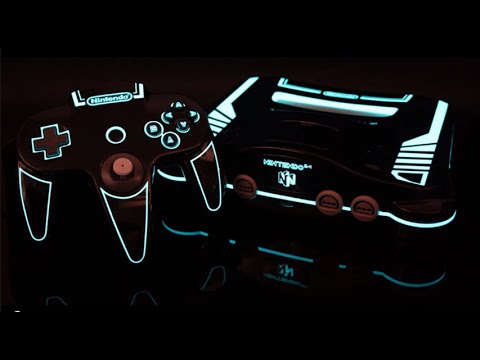 To check out last week's featured Crafts 'N Gear, here's the link for #40: Mirror's Edge Parkour, Chrome N64 Controller, Stop Motion Chalk Mario Kart. You can find all our back episodes here.
If you've seen or made anything cool that you'd like to see featured, leave us a comment or send me a tweet! You just might see your name credited next week.

Article from Gamersyndrome.com
Related posts: