Dragon Age III: Inquisition, the latest chapter in the dark fantasy series was announced last month. And today, thanks to a BioWare panel at the Edmonton Comic and Entertainment Expo new details have surfaced. First of all cinematic designer John Perry has said that "he's had a longer pre-production on Dragon Age 3 than any other BioWare project he's worked on." Also: "one level in Dragon Age 3 is as big as all of Dragon Age 2's levels." Mike Laidlaw, creative director for the game, has noted that the player characters will only be human, but that "customization is going to be bigger than Dragon Age: Origins." This includes companion customization.
General manager Aaryn Flynn tweeted a picture from the conference that showcases some concept art from the game: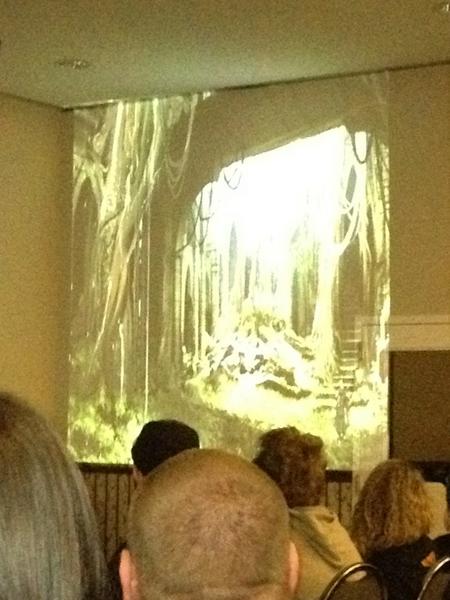 You can't see much, but he's commented that an official version of everything shown will be posted later. Previous facts about the game include the use of DICE's Frostbite 2 engine. In a previous interview with IGN, Flynn stated that "we know we need new technology to truly make this vision become fully realized. And we've been working with DICE to make Frostbite 2 the foundation for the engine that is going to power Dragon Age 3." What we also know is that the same team who has been working on Dragon Age since Origins will be in charge of Inquisition and that they're all committed to giving fans the best possible experience.
"We've been poring over player feedback from past games and connecting directly with our fans. They haven't held back, so we're not either. With Dragon Age 3: Inquisition, we want to give fans what they're asking for – a great story with choices that matter, a massive world to explore, deep customization and combat that is both tactical and visceral."
Dragon Age II, which was released last year, was not as warmly accepted by fans as the original. The game received good reviews and sold well, but a lot of the more hardcore DA fans, myself included, felt that while the combat was greatly improved, the game lacked scale and content compared to the epic Origins. Here's to hoping Inquisition will combine the best of both previous games and give us the ultimate Dragon Age experience. Dragon Age III: Inquisition is slated for release late 2013, platforms are yet to be announced.
Source: Twitter

Article from Gamersyndrome.com